Modul Sodobne umetniške prakse
// Contemporary art practices

module

Vodja

// Leader

: Rene Rusjan
Mentorja

// Mentors

: Ludovica Fales, Tomas Sheridan

Aprila smo gostili dva priznana filmska mentorja Ludovico Fales in Tomasa Sheridana, ki sta za naše študente izvedla delavnico dokumentarnega filma. Zaradi kovidsituacije je bilo treba delavnico voditi na daljavo prek spleta. Le manjši del študentov je bil v bližini Nove Gorice, preostali so sodelovali od domov v drugih delih Slovenije, Balkana, Ukrajine, Rusije, Kazahstana, Pakistana itd. Vendar to ni bila glavna značilnost delavnica. Pomembna je bila sposobnost, da so bili kljub temu študentje povezani v skupinskem delu, kjer je vsak član kreativno sodeloval in soustvarjal dokumentarne zgodbe, ki so se dotaknile njihove situacije in njihovega položaja v njej. Posebnost mentoriranja Ludovice in Tomasa je tudi to, da vsaki skupini določita tudi "omejitve" (brez dialogov, brez posnetkov idr.) Nastalo je šest dokuemntarnih del.

// In April, we hosted two renowned film mentors, Ludovica Fales and Thomas Sheridan, who conducted a documentary film workshop for our students. Because of the covidsituation the workshop had to be conducted remotely online. Only a smaller part of the students were situated in the vicinity of Nova Gorica, the rest were working from home in other parts of Slovenia, the Balkans, Ukraine, Russia, Kazakhstan, Pakistan, etc. However, this was not the main feature of the workshop. Important was the ability that, in spite of that, the students were connected in group work, where each member creatively participated and co-created documentary stories that touched their situation and their position in it. The peculiarity of mentoring Ludovica and Tomas is that they also set "limits" for each group (no dialogues, no recordings, etc.). Six documentary works were created.
Sodelovali so //
Participants:

Luka Carlevaris, Vasily Kuzmich, Luka Mavrič, Roman Paxyutkin, Melita Sandrin, Adriana Ronkali, Carolina Carqueja e Silveira, Filip Sluga, Tijana Mijušković, Vanda Ljumović, Tamara Taskova, Alen Dolšak, Ivana Kalc, Immanuel Hofman, Matej Rimanić, Matevž Jelenc, Arta Kroni, Kristian Petrovčič, Katja Pivk, Domen Vinko, Aljaž Lavrič, Sofia Mijatović, Miha Reja, Domen Sajovic, Una Savić, Milena Brkić, Karin Likar, Renee Stanič, Nikita Velichko, Maksimilian Zabukovec.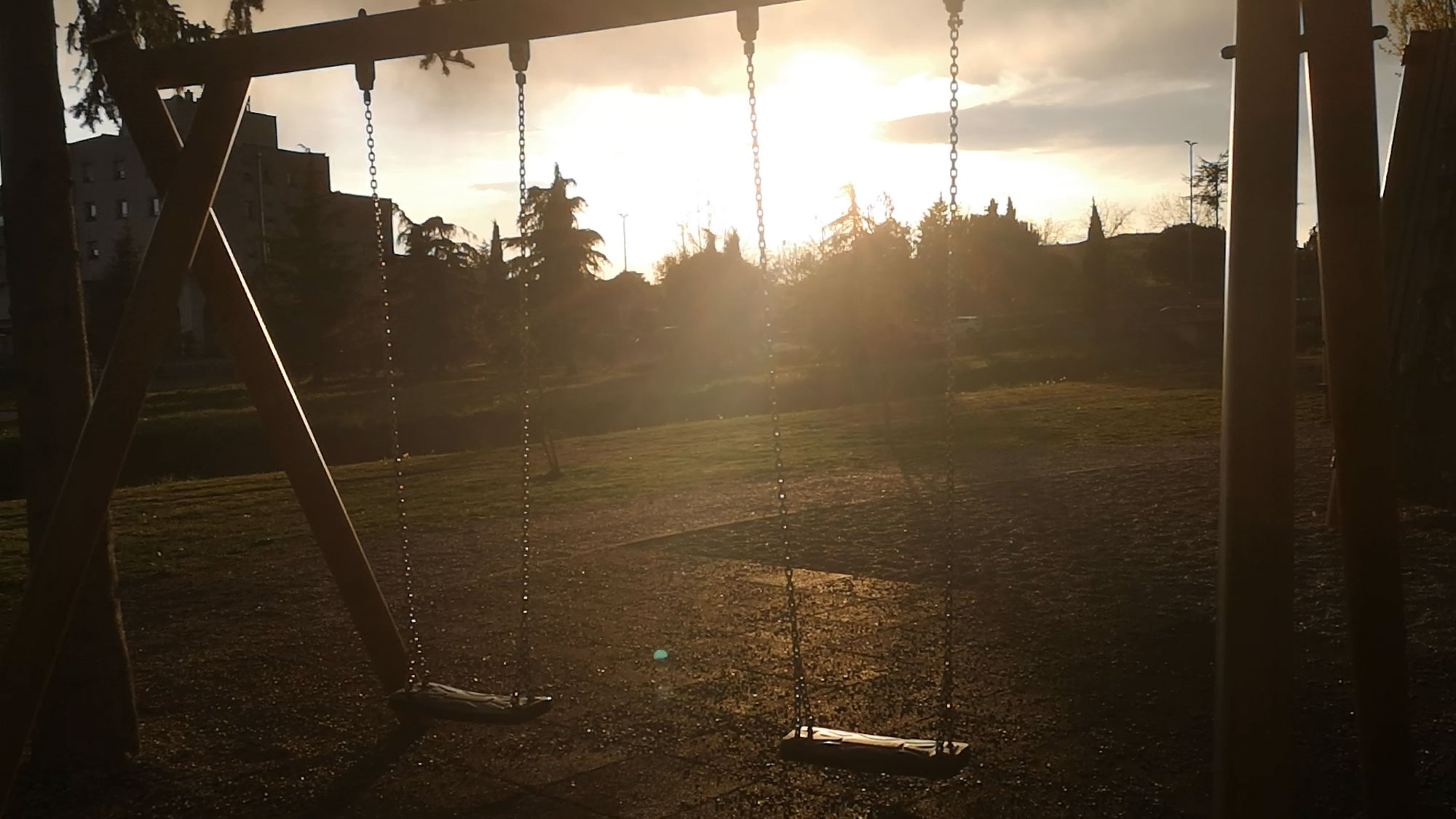 Graveyard picnic
Adriana Ronkali, Carolina Carqueja e Silveira, Filip Sluga, Tijana Mijušković, Vanda Ljumović