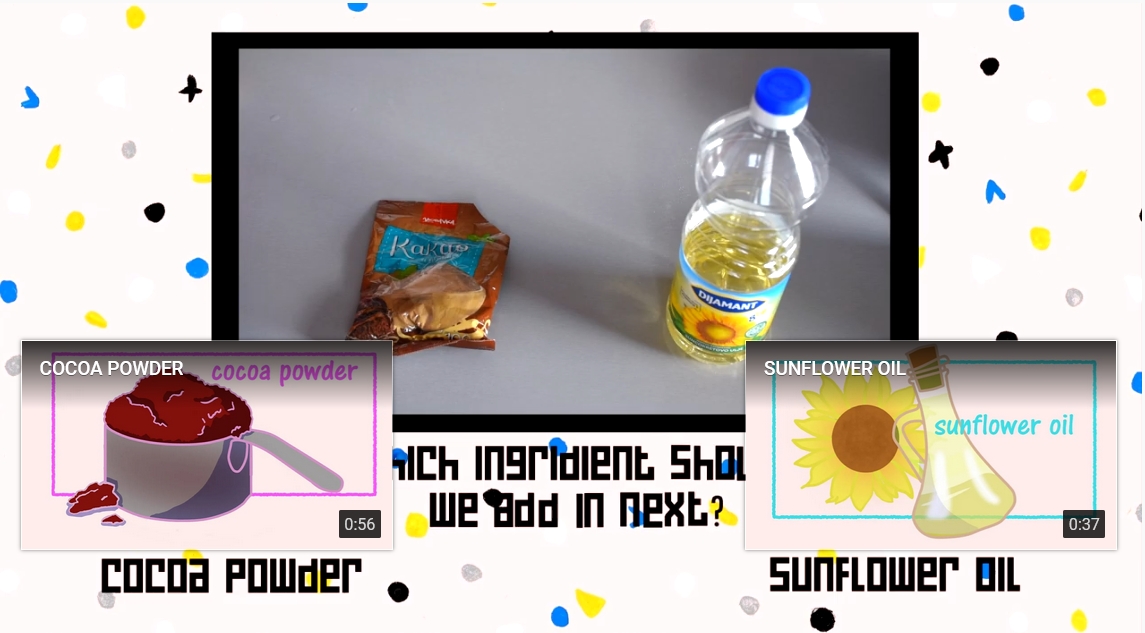 Medtem ko smo vsi zaprti v svojih hišah se trudimo, da bi se zabavali, mnogi ljudje ponovno obiskujejo svoje hobije in si prizadevajo zapolniti čas. Tako veliko več ljudi dom kuha ali peče, ter za pomoč in izboljšanje lastnih znanj pristopa k spletnim virom, kot je YouTube. S svojim projektom smo si prizadevali, da občinstvu ne ponudimo le recepta, ki mu lahko sledijo doma, ampak projekt, s katerim se lahko pozneje zabavajo. No … po pravici povedano, je bil prvotni načrt ponujati pravo pecivo na razstavi, toda s premikom razstave na splet se je bilo treba prilagoditi spremembam z nekaj "pravimi" potezami…

// With everyone confined to their houses and struggling to entertain themselves many people are revisiting their hobbies and trying to fill time. So many people cooking or baking at home have flocked to online resources such as YouTube to improve their skills. With our project we strived to not only give the audience a recipe they can follow at home but a project they can later make and have fun with.
Well… in all fairness the original plan was to give real cupcakes at the event but, with the exhibition being moved online, some "real" adjustments had to be made…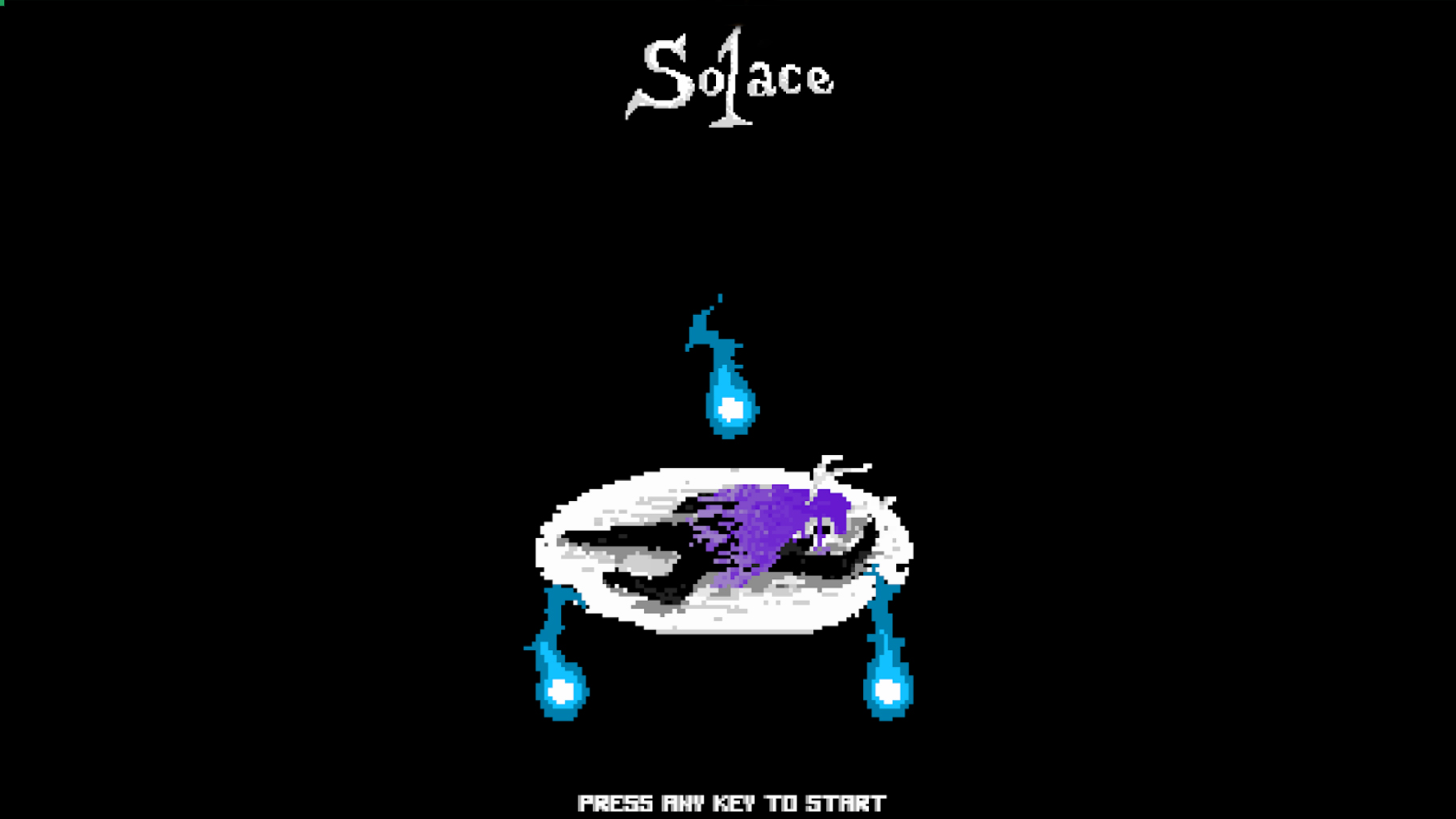 Izdelava računalniške igrice SOLACE
// SOLACE, a computer game project
// Za namestitev prenesite ZIP datoteko na svoj računalnik, njeno vsebino prenesite v lokalno mapo in nadaljujte po navodilih iz datoteke README.txt // To install please download as ZIP file and unpack folder, continue to follow the instructions in README.txt
Nika Karner, Martin Lozej, Kristian Petrovčič, Renee Stanič
Za končni izdelek našega projekta smo si zadali stvaritev računalniške igrice, ki bo temeljila na sistemih Unity engine, Aseprite in C#. Igrica je izdelana v tehniki pixel-art, kar pomeni, da celotna grafična podoba spominja na igrice iz 90ih let, inspiracijo pa črpa iz temne fantazije. Igralec bi razpolagal z enem likom, ki bi ga videl od zgoraj, v igri bi bil tudi intro, kar bi bila manjša soba z različnimi objekti, s katerimi bi lahko igralec stopal v stik. Kot igralec bi morali videti, koliko zadržimo proti temu zlikovcu, če ga premagamo, bomo svoj rezultat zapisali in ga prikazali na zaslonu "Game Over", kjer bomo tudi lahko poskusili znova.
// For the final product of our project, we decided that we will create a computer game based on systems such as Unity engine, Aseprite and C#. The game is made in pixel-art technique, which means that the entire graphic of the game resembles a game from 90's. It is a top down action game inspired by dark fantasy.
The player would control a small character viewed from the overhead position, there would be an intro, a small room with different objects, with which the player could interact and in the following room a Boss character. We as the player would have to see how much we last against this villain, if we are defeated it shall record our score and display it at the "Game Over" screen where we will also have the option to retry.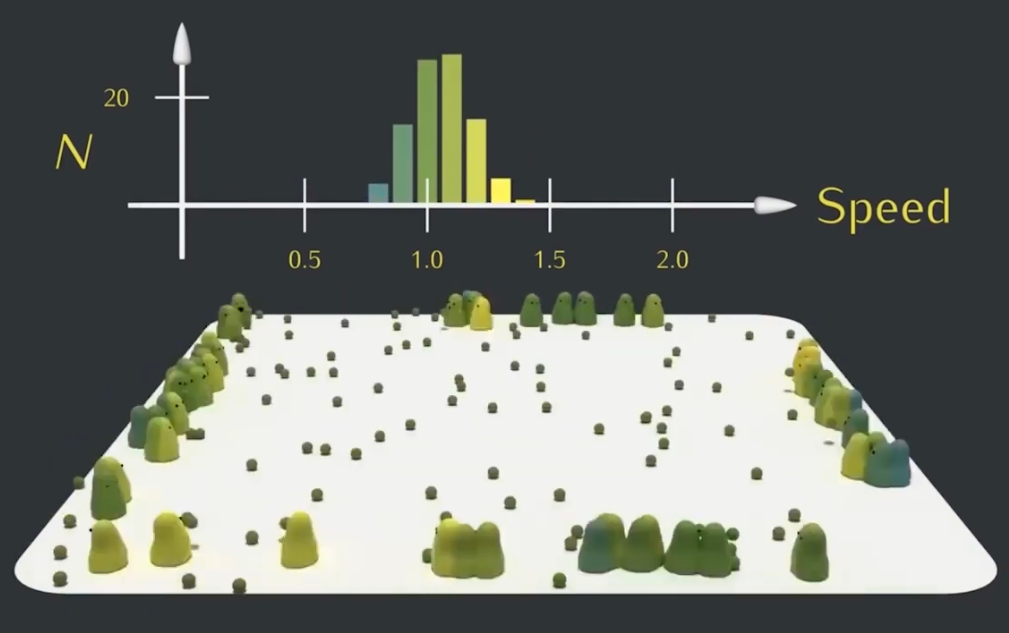 Trije študenti z Univerze v Novi Gorici poskušajo osvetliti, kako nevarna je pretirana uporaba informacij s pomočjo zaslona. Ta nova bolezen 21. stoletja se imenuje "digitalna odvisnost", ki posledično vodi v "digitalni avtizem". Na žalost je zdaj te bolezni nemogoče preprečiti in ljudem prepovedati uporabo pripomočkov, edino, kar lahko storimo zdaj, je upoštevanje "digitalne higiene", s pomočjo katere bomo lahko vsi, predvsem pa otroci ostali pametni — ali pri zdravi pameti.

// Three students from the University of Nova Goriсa tried to shed light on how dangerous the excessive use of information through the screen is. This new disease of the 21st century is called "digital addiction" which subsequently leads to "digital autism". Unfortunately, now it is impossible to prevent this disease and forbid people to use gadgets, the only thing that can be done now is to observe "digital hygiene" to help our children and ourselves stay smart, or indeed sane.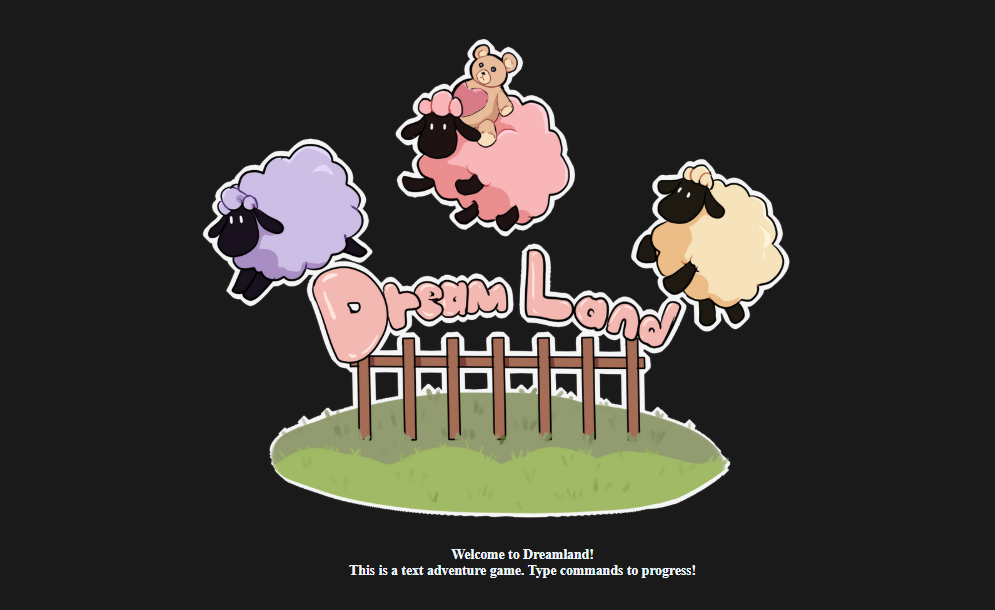 Sanjska Dežela, besedilna igra
//DreamLand, a text-based game

Jelena Cambj, Tijana Mijušković, Wadha Amoor
Našo skupino je zanimala izdelava igre, ki zagotovi dobro izkušnjo s posebnim, pogosto spregledanim načinom delovanja. Namesto da bi preplavila igralca s prenasičeno grafično podobo, se ta igra osredotoča na razvijanje zgodbe skozi tekst. Poleg tega vzpodbuja igralca, da se z uporabo lastne domišljije poglobi v svet in zgodbo igre.
Igralec prevzame vlogo preiskovalca, ki nekega dne zaide in se znajde v starem zabaviščnem parku DreamLand. Odloči se ga raziskati, a se ne zaveda, da kraj preganja zlobni duh.
// Our group is interested in creating a good experience with an uncommon and underrated type of gaming. Instead of having a game that overwhelms its player with its high-level visuals, this adventure game focuses on developing a story via text. It also encourages the player to use their own imagination to dive deeper into the game world and story.
The player takes on a role of an investigator that one day took a wrong turn and found himself in an old theme park called DreamLand. He decides to investigate it, without knowing that this place is being haunted by an evil spirit.
Video napovednik igre // Game Trailer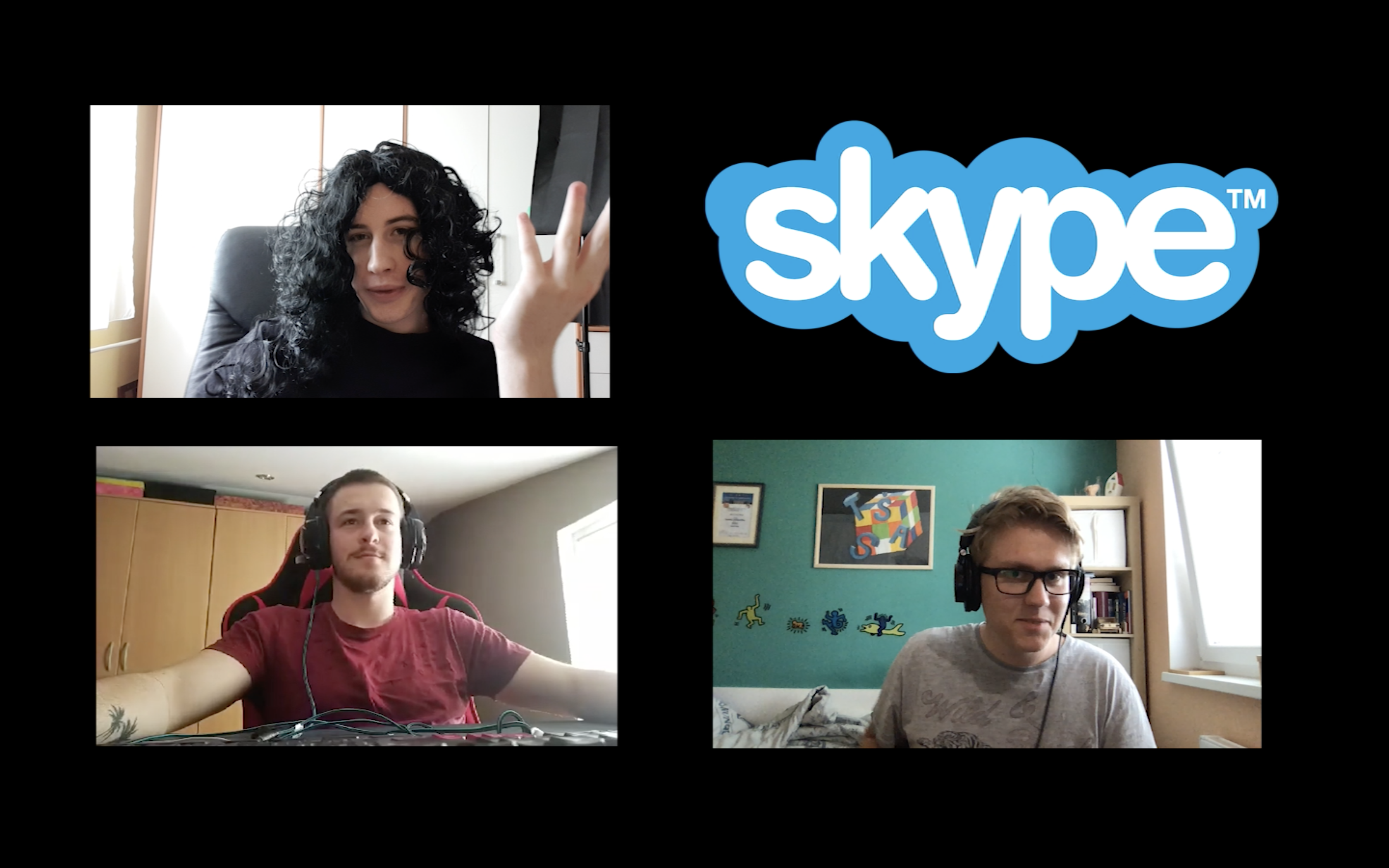 Naredili smo interaktivni film, pri katerem si lahko sam izbereš svojo pot in s tem svojo dogodivščino. Trije prijatelji rešujejo ugrabljeno prijateljico, v katero je vsak od njih zaljubljen. Zaradi trenutne situacije (karantena pa to), smo skupaj napisali nekakšno okvirno zgodbo, nato pa je vsak sam posnel. Najtežji del je bila montaža, saj smo imeli veliko posnetkov. Delo se nam je zdelo zelo zanimivo, bolj pa bi vživeli če bi lahko vse to naredili v živo skupaj. Življenje je polno napačnih odločitev.
// In this interactive film the user can choose their own path and thus create an own adventure. Basically three friends are trying to save their friend that they all have a crush on. Due to the covid-19 pandemic resulting in quarantine, the collaboratively set framework of the story consists of the individual author's separate contributions. The hardest part of the work proved to be the editing as there was a lot of footage to be mastered. We found the work very interesting, but we would have enjoyed it more if we could have done it all together in person. Life is full of wrong choices.
Reši jo / Save her, Dolžina: Odvisno katero pot izbereš // Running time : It depends on what path you choose.
---
V 1. letniku modula pri predmetu Novi mediji študentje bolj poglobljeno spoznajo raznolike tehnologije in rabe novih medijev, še posebej v polju umetnosti. Ključne teoretične koncepte in metode uporabijo pri razčlenjevanju izbranih primerov umetniških del. Ob nekaterih posameznih vajah in izdelavi ter predstavitvi individualne kratke raziskovalne (seminarske) naloge, študentje v majhnih skupinah zasnujejo in izvedejo celostni praktične projekte:
V letu 2019/20 gre za šest projektov, ki segajo od interaktivnega video-trilerja vse do simulatorja za peko mafinov, mimogrede se raziskovalno obregnejo ob digitalno demenco, ponudijo pa tudi foto+audio blog s pakistanskih ulic; medtem ko je ena skupina ustvarila borilno igro temne atmosfere in minimalistične grafike, druga stavi na uporabnikovo domišljijo v interaktivnem romanu, skozi katerega tipamo z besedami….
// In year 1 of the module, the New media course brings students to a deeper understanding of different technologies and ways new media are used especially in the realm of art. Key theoretical concepts and methods are applied in analysing selected artwork cases. Besides some practical exercises and writing as well as presenting of a n individual research (seminar) paper, the students in small groups conceive and produce coherent practical projects:
In year 2019/20 six projects are presented, ranging from an interactive video-thriller to a cupcake simulator, by the way they research in and preach against digital dementia, but also deliver a photo+audio blog fro he streets of Pakistan; while one group created a fighting game of dark atmosphere and minimalist graphics, the other bets on user's imagination in an interactive novel, based on text-input controls…
DUP // DAP 1 // MUP // MAP 2 | Nosilni modul: Novi mediji // Carrier Module: New Media | Mentor in avtor teksta: // Mentor & text by: pETER Purg