Community in the Time of Coronavirus
To the final exhibition Academic year 2019/2020
Each academic year is special. But this year was one to be especially remembered. Of course, it was full of interesting activities that we experienced together, and we present some of them here. Above all, this year was marked by the relocation of the School back to the Slovenian side of the border – let us remember that after moving from Ljubljana, the School operated in Gorizia/Gorica, on the Italian side of the border. The entire autumn semester still took place in the Alvarez Palace, at Via Diaz 5, in 'the old Gorica'. In December we moved to UNG spaces at Vipavska 13, Rožna Dolina, Nova Gorica. In order to make the community comfortable in the new premises as soon as possible, we prepared a 'housewarming' Semester Show before moving in, and the visitors accompanied us to our new home. In January, regular study work began. Students and colleagues are discovering the advantages that the new premises allow us, while Gorizia, where we have become accustomed and cooperated well, also remains within walking distance. We will continue to cultivate contacts, even from this side of the border.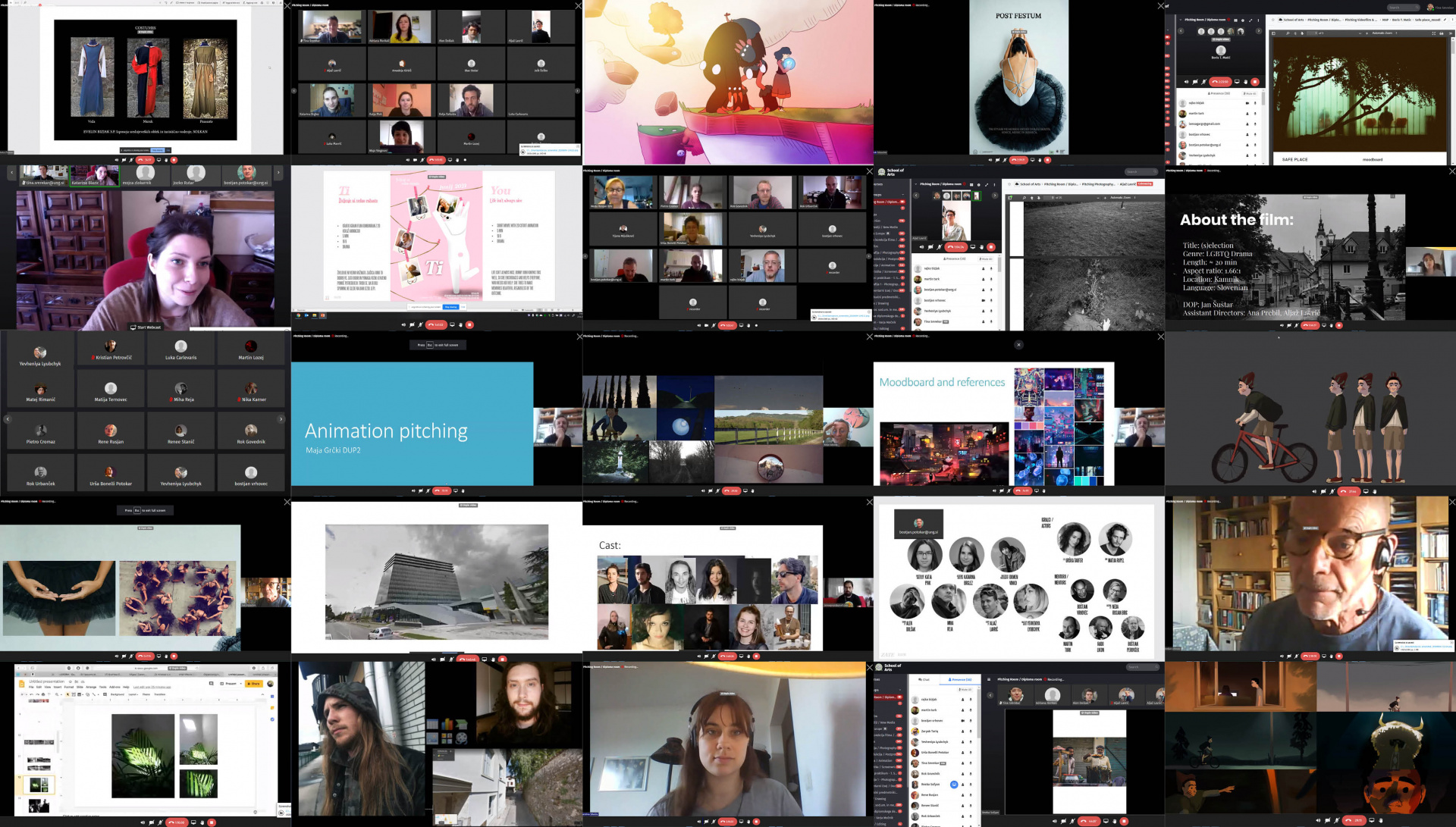 What about the corona virus? Of course, it also marked us. The semester was just well set up when it had to be interrupted. First, we needed to help students from distant countries to be able to travel home on time, while in the same time preparing everything for working in a new situation. We quickly set up an online platform and continued working remotely, but of course not all activities could be carried out. Students who were already ready to start shooting their final films are probably the most affected. Some will be able to shoot the films in summer, but not all, as they may be tied to a specific time of year, to teams or locations that might currently not be available.
Our exhibitions are distinctly social events. First of all, in a pedagogical sense, because we work on them together, in an intensive cooperation of all participants, of course in close connection with the space; we also think about the visitor. With our exhibitions we are co-building a community. This year's coronavirus situation hit a soft spot in that respect. But we didn't give up. We cultivated the community also at the time of the corona virus.
We invite you to take a walk through our online exhibition and we hope that we will be able to experience the next one live again.
Contributors
Students and (pre)graduates
Nabil Almanssour, Wadha Amoor, Katarina Blažič, Katarina Brglez, Jelena Cambj, Luka Carlevaris, Carolina Carqueja e Silveira, Vid Cerjak, Pietro Cromaz, Alen Dolšak, Nikola Đorđević, Sagar Gahatraj, Elisabetta Gessi, Maja Grčki, Ece Horasanli, Nika Karner, Abiral Khadka, Amadeja Kirbiš, Eva Sara Krivec, Vasily Kuzmich, Aljaž Lavrič, Martin Lozej, Yevheniya Lyubchyk, Boris Matić, Luka Mavrič, Tijana Mijušković, Larisa Nagode, Anja Paternoster, Miha Reja, Denis Perčič, Kristian Petrovčič, Giulio Pipolo, Katja Pivk, Ana Prebil, Anja Resman, Matej Rimanić, Adriana Ronkali, Ezgi Sakin, Una Savić, Renee Stanič, Reeba Sufyan, Jošt Šeško, Blaž Štolar, Zaryab Tariq, Matija Ternovec, Rok Urbanček, Nikita Velichko, Domen Vinko, Maksimilian Zabukovec, Parisa Zaeri, Staš Zupanc
UNG School of Arts Colleagues 2019/2020
Ivan Antić, Rajko Bizjak, Metod Blejec, Urša Bonelli Potokar, Janez Burger, Nataša Burger, Rastko Čirić, Radovan Čok, Jernej Čuček Gerbec, Luka Dekleva, Jože Dolmark, Milanka Fabjančič, Michael Frei, Miha Godec, Rok Govednik, Sarah Günther, Jasna Hribernik, Arne Hodalić, Matjaž Jankovič, Dušan Kastelic, Miha Kelemina, Ana Rahela Klopčič, Nevenka Koprivšek, Andraž Kržič, Timon Leder, Luka Leskovšek, Rado Likon, Boštjan Perovšek, Jan Perovšek, Andrej Pezelj, Tihomir Pinter, Boštjan Potokar, Peter Povh, Kristina Pranjić, Igor Prassel, Arjan Pregl, Metka Pretnar, Peter Purg, Mitja Reichenberg, Rene Rusjan, Neda Rusjan Bric, Jožko Rutar, Kolja Saksida, Jan Simončič, Ana Sluga, Tina Smrekar, Sarival Sosič, Mateja Starič, Maja Stegovec, Robertina Šebjanič, Darko Štrajn, Nives Štefančič, Martin Turk, Boštjan Vrhovec, Mojca Zlokarnik, Jaka Železnikar, Tadej Žnidarčič, Valerie Wolf Gang
---
Subscribe to our news

At the University of Nova Gorica School of Arts we are proud of the work of our students and mentors. By subscribing to our news you will allow us to inform you not more than a few times a year about events related to the academy and the achievements of students, graduates and associates.
UNIVERZA V NOVI GORICI // UNIVERSITY OF NOVA GORICA
AKADEMIJA UMETNOSTI // SCHOOL OF ARTS
Vipavska cesta 13, Rožna Dolina
5000 Nova Gorica
Slovenija // Slovenia
+386 5 33 15 223, +386 51 336 770
http://www.ung.si | au.ung.si | info@ung.si